The circuit I cobbled together a few weeks ago to add sound support to the Gotek floppy emulator worked up to a point, but it was ugly as hell, and suffered from occasional stray oscillations.  H.M. – the mastermind behind the new Amiga-compatible firmware for the Gotek unit – suggested using a MOSFET instead of the BJTs, and since I'm still shaky on the use of transistors it seemed like a good opportunity to learn.
I must confess that my component selection process looks something like this:
Find a component which will do the job
Check EBay – is it easily and cheaply obtainable?

No?  Go to step 1
Yes? Done!
I wanted a small MOSFET that would comfortably switch a low current 12 volt load, triggered by a signal that sits at around 3v most of the time, and drops down to something approaching zero-volts momentarily when the drive head steps.  In particular I was looking for a device with a switching threshold voltage between 1v and 3v – any lower than this and there'd be a danger that the step pulses wouldn't actually trigger the transistor.  I settled on 2 devices to try – 2N7000 and BS270.
From the Googling I've done since starting this project, I've learned that piezo sounders don't like having a constant voltage across them in the long term – so my goal for the revisited circuit is to have zero potential across the sounder except when a step pulse is happening.  The obvious way to achieve this is to have the sounder in series with a resistor, from VCC to GND, with the MOSFET across the sounder.  Since the step signal is active low, this should work in theory – but in practice it doesn't!  The reason is that the step pulse is too narrow (nominally 1µs, though in practice not quite that brief) to provoke a response from the sounder.
To get around this, I chained the MOSFET with a good old BC547, with its lengthy storage time measured in the hundreds of microseconds.  This significantly widens the pulse and makes it audible.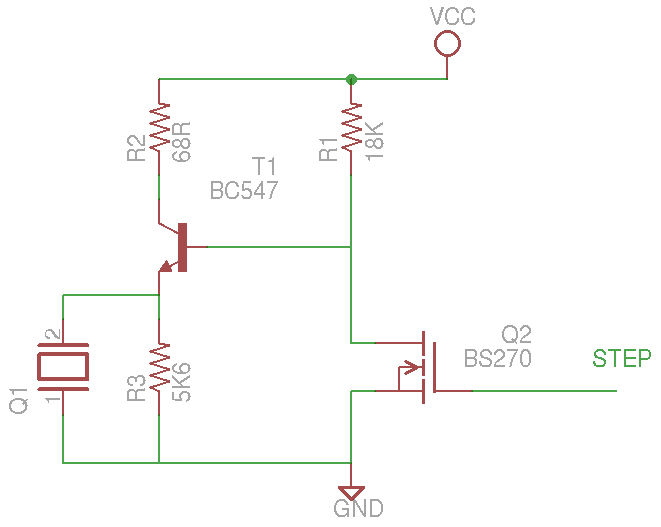 I'm still "rat's-nesting" the circuit, but this simplified version is significantly neater than my first attempt!